Thinking about the future
Sustainable development is at the heart of Celsior's concerns. As such, Celsior continues to improve the environmental performance of its products, services and industrial operations, but has also implemented a sustainable development policy aimed at protecting our natural environment. All new products developed by Celsior must meet our desire to protect the environment.
With each of our innovations, we will strive to optimize the resources used to preserve natural resources for future generations. In short, at Celsior, we will continue to do what we have always done: put the environment at the center of our concerns, highlight innovation and think about the future.
Energy consumption
Efficiency & energy saving
The high efficiency of Celsior products will allow you to reduce your energy consumption and optimize your maintenance costs. Plus, technologies are integrated to reduce energy consumption (EC motors, frequency drive on compressors, floating condensing pressure, heat recovery using heat pump, specific algorithm to optimize controls).
Control and regulation
Celsior also offers you a wide range of regulatory solutions to combine energy efficiency and intelligence of the management of consumption.
Innovative products oriented to energy savings
Celsior is dedicated to partnering with customers to help reduce operating costs and environmental impact despite spiraling energy prices, increasing energy consumption through longer store opening hours and constant expansion of the range of goods to be refrigerated. To tackle these challenges, Celsior offers innovative solutions like the CO2OLtec® Evo system, which uses the natural refrigerant CO2 to help customers reduce energy costs by up to 30% compared to standard transcritical system.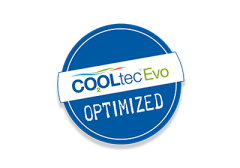 All 60 bar CO2 evaporators now operate with 90 bar expansion valve & liquid line for extended operation flexibility.
The new F-Gas regulation EU/517/2014 entered into force on the 9th June 2014 and has become effective in January 2015. From this time, a «cap and phase-down» mechanism will gradually reduce the availability of new fluorinated greenhouse gases (F-Gases); and in particular hydrofluorocarbons (HFCs), in the 28 European Union (EU) countries. Figure below shows the timeline and the individual reduction steps of this phase-down, which will result in a 79% reduction of HFC supplies by the year 2030.
For the first time, the new regulation imposes restrictions on the volume of HFCs that can be produced and imported. The restrictions relate to the total placement of bulk HFCs (in tones of CO2 equivalent) on the market, and will primarily affect those substances that have the highest global warming impact based on their direct emission potentials. As a result, there will be a move away from HFCs that have a medium-to-high Global Warming Potential (GWP). It is expected that decreased availability will quickly lead to significant price increases for higher-GWP HFCs.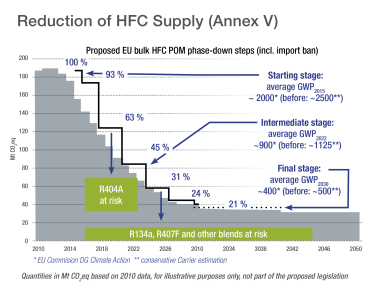 In addition to the phase-down, the regulation will place restrictions and bans on the use of HFCs in certain application, which will effectively mean the phase-out of high GWP HFC refrigerants such as R404A and R507. With some minor exceptions, elements of the previous F-Gas regulation (EC/842/2006) such as record keeping, leak tests and certification of companies and personnel remain mostly unchanged.
Measuring temperature performance
Celsior declares the temperature performance of the cabinet according to the ISO 23953 standard, which defines the refrigerated cabinet requirements and test conditions.
ISO 23953 - Refrigerated display cabinets classification, requirement and test conditions
The refrigerated display cabinets are classified according to the standard ISO 23953. This standard defines the classification, requirement and test conditions for representative refrigerated display cabinets including the minimum size of the test room, side air-flow, light intensity, temperature and humidification control, calibrated measurements etc.
Thanks to ISO 23953 customers can compare temperature classification according to the same testing procedure for all manufacturers in Europe who strictly follow the standard.
Climate room requirements and setup
ISO 23953 defines exactly the requirements and tolerances of a climate room including:
Size of the room
Side airflow speed and direction relative to the cabinet
Calibration of the measurement equipment
Where to place the cabinet in the climate room
Color of room and light intensity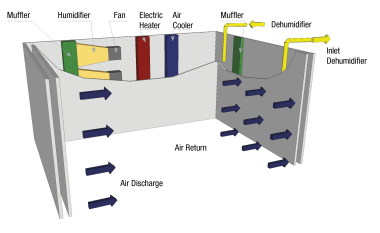 Example of Celsior testing room. The above picture illustrates how a climate room for testing the refrigeration equipment looks like.

Temperature class – describes the temperature performance inside the cabinet
The temperature performance is tested in a cabinet with product simulation dummies which are called M-package. The M-package simulates thermal characteristic of meat products.
Cabinet Temperature performance means:
How good can the cabinet hold the temperature of a chilled or frozen product – simulation dummies at lab climate conditions
How small is the cabinet storage temperature deviation of product simulation dummies at lab climate conditions
Temperature performance is tested by simulating different operation use cases: shop closed (light off, night curtain down, no door opening) shop open and commissioning of cabinet (doors / lids long open) shop open consumer take products (regular door / lid opening)
There are three main temperature class groups: Low, Medium and High temperature. These main groups are split in different temperature classes indicated by a number following the group letter: Example M2. The higher the number the higher the difference between the lowest M-package temperature and highest M-package temperature.
Example: "Temperature Class M2"
(Medium temperature class 2)
Warmest M-package: max. +7°C
Coldest M-package: min. -1 °C
Link between climate class and temperature class
Because the temperature inside a cabinet is strongly influenced by the environment's temperature and humidity, the temperature class is only a meaningful declaration if it is linked to a climate class. For this reason, a full cabinet declaration always consists out of climate class and temperature class.
Example "3M2" (At climate class 3, the cabinet reaches temperature performance M2)
3= climate class (certain ambient test condition during testing)
M2= Temperature class (specified highest and lowest M-package temperature)
Laboratory vs. operation in real store environment
According the ISO 23953-2 standard Appendix B are significant different operation conditions between lab and store operation especially for remote cabinets. The following section describes and explains the difference to the application in the field.
Difference between laboratory and store data for remote cabinets
The conditions of a remote cabinet in the store differ very much from the lab conditions. Usually the cabinets in a store are multiplexed, located against a wall and the ambient conditions are lower. Using directly lab data for remote cabinets would lead to an oversizing of piping and compressor racks. Based on this Celsior provide for E6 remote cabinets in the technical data sheets rack sizing data for the standard configuration at store condition 25 °C / 60 % rel. H. and 22°C / 55 % rel. h. This data are already made for investment and life cycle optimized sizing of rack and piping.
Based on the long Celsior expertise in refrigerant system design our general recommendation is:
Rack design data 25/60 application: Stores in warm climates, stores with difficult climate situations, cabinet in a non-ideal place (high humidity, high temperature, close to a door etc…)
Rack design data 22/55 application: Store in middle and north Europe, stores with moderate climate (with air conditions, multiplexing remote cabinets)
Technical data for plug-in cabinets
To have comparable energy consumption within the Celsior range, we specify the energy consumption for the standard configuration of plug-in cabinets according to ISO 23953 and climate class 3 conditions. This makes the data comparable; however, the real energy consumption in a store is usually lower.
Influence of the cabinet installation on the performance
The installation can have major effects on the energy and temperature performance. There are some requirements, which need to be kept to ensure that the cabinets are working properly.
Do not install the cabinet outside or next to heating radiators or other heat sources.
Keep a distance from the wall as indicated in the operating manual.
Avoid direct sunlight radiation impact.
Keep free the air intake and outlet area (only plug-in).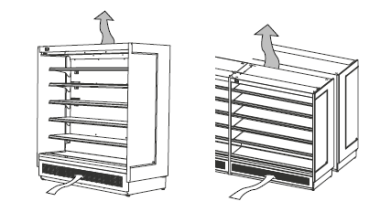 Example of a plug-in cabinet which needs free air flow on front and top of cabinet.
Celsior internal testing
To ensure a long life-time and proper operation, Celsior has defined internals standards for robustness and stress tests of cabinet as well as components.
Static robustness test
To test the cabinet and shelf strength, all shelves are loaded with a certain weight for several days. The deflection of brackets and shelves is checked under load and after unloading the cabinet. Only if the cabinet deflection and deformation stays within the small tolerances defined by the Celsior quality department, the cabinet will be released to the market. With high requirements on cabinet stability and strength Celsior ensures a high-quality product, safe and stable for years of operation.
Dynamic testing of doors and lids
With the door opening test it is possible simulate several years of lifetime of our doors, hinges and handles within a few weeks. During the test, the system is continuously monitored and checked in terms of abrasion, break / damage and deformation The system will only pass the internal qualification if it can resist several simulated years in the tough life of a supermarket. For double glass doors Celsior requires additional tests to ensure that the sealing works properly and the doors do not get condensation between the glasses after some years.
Packaging and shipping test
Before each serial launch, Celsior conducts a special packaging and transportation test. This happens with one or several cabinets in a truck going on a defined road with various road conditions. After the transport, the cabinet and the packaging are checked visually. This ensures that the cabinets will arrive to our customers in the same condition as they were packaged in the factory.
Functioning of furniture
A piece of furniture is designed exclusively to keep fresh food products at temperature.
The storage temperature of the product must be compatible with the application temperature of the furniture and in accordance with the legislation in force.
The furniture is designed for the preservation of products and not for their temperature. For this purpose:

DO NOT PLACE products at a higher temperature than the furniture.
DO NOT EXCEED load and load limits.
REFER to the label in the cabinet.
DO NOT OBSTRUCT air inlet and outlet grids.
LEAVE free spaces between products for air circulation.
MAKE periodic product rotation.


CE (European Conformity) certification
The Celsior cabinets are compliant with the relevant standards or parts of the standards as confirmed with the CE declaration of conformity:
ISO 23953-1 (Refrigerated display cabinets, general)
ISO 23953-2 (Refrigerated display cabinets, requirement)
EN 60335-1 (Household and similar electrical appliances. Safety. General requirements)
EN 60335-2-89 (safety requirement for household and similar electrical appliances, particularly for commercial refrigerating appliances)
To ensure maximum safety, all plug-in cabinets with flammable refrigerant are additionally CE certified by an independent body.
Factory certifications
All Celsior cabinet factories have a certified quality management and environmental management systems.
EN ISO 9001 (General quality management system)
EN ISO 14001 (Environmental management systems)
EcoDesign: An initiative led by the European Union
Adopted by the European Union Commission in October 2019, the implementation of the EcoDesign directive has an application date defined on the 1st of March 2021. The directive applies to newly produced refrigerated cabinets only – the systems, racks and condensing units are covered by other regulations. The compliance is declared by the manufacturer with the declaration of conformity and with providing technical data to a European database called EPREL and the CE-mark. A verification procedure will be applied by the member states.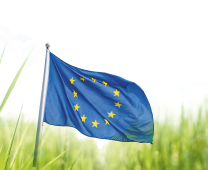 A clear objective
The objective of the EcoDesign directive is to bring manufacturers to design energy efficient products so as to reduce their environmental impact throughout their life cycle.
This EU directive (Directive 2009/125/EC) is a framework for defining requirements regarding the product life cycle for products placed into the market. It covers all energy-related products (ErP) sold in the domestic, commercial and industrial sectors.
It has evolved over the years by adding new product categories, with the aim to encourage sustainable solutions, from design to service and recyclability.
The requirements
Below you will discover the details of the guidelines set by the directive:
Energy labeling
Product design
Product life cycle
Customer information
Energy Labelling
The objective of Energy Labeling is two-fold: give clear, easy-to-understand label information on the product energy efficiency and classify products according to their level of efficiency (from G to A), with an overall effect of pulling the market towards more energy efficient products.
All Celsior products will be EcoDesign ready when the regulation enters into application in March 2021.
The Energy Labeling regulation will be enforced beginning in March 2021. Products marketed prior to this date are not affected. The next regulations upgrade will come into effect in 2023.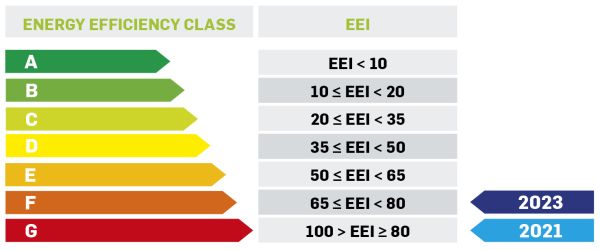 The Label
Each new refrigerating appliance will be supplied with a printed label gathering energy related information: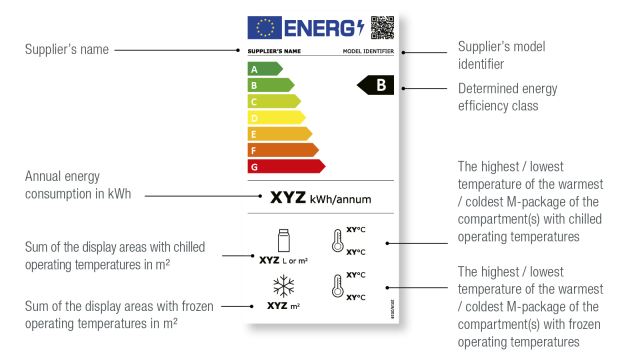 Energy Efficiency Index
To be able to calculate the energy efficiency levels of the various equipment, an Energy Efficiency Index (EEI) has been introduced.
This Energy Efficiency Index is a ratio between measured laboratory energy consumption
1
and a standard energy consumption per cabinet category
2
.
1 Measured at ISO 23953 rating conditions
2 This standard energy consumption is based on data collection from various sources (manufacturer data, Top Ten list, catalogues...) and are not all based on ISO test standard.
Minimum performance thresholds are established and products that are not meeting these EEI thresholds can no longer be placed on the market.
The Energy Efficiency Index has been defined into two steps to plan further energy performance improvements:

From 01.03.2021: EEI ≤ 100%
From 01.09.2023: EEI ≤ 80%

The formula of the Energy Efficiency Index (EEI) is set as follows: 



AE is the annual energy consumption, Edaily is the energy consumption measured over 24 hours
SAE is Standard Annual Energy consumption determined through a benchmark of existing equipment, defined by Category, Type, Temperature class, Total Display Area
Follow the life of products
In addition to requirements set at the product design level, the directive has set requirements to follow the life of products once in operation:
Availability of spare parts until 8 years after the last unit is put in operation with list available on website of the manufacturer
Delivery time of spare parts in maximum 15 working days
Access to repair and maintenance information on the manufacturer website starting maximum 2 years after the first unit being put in operation
Requirements for dismantling for material recovery and recycling while avoiding pollution (equipment design according to WEEE – Waste Electrical and Electronic Equipment)
Guarantee free access to information
The regulation is listing a number of documents that should be readily available to all users of the products in operation.
Instruction manuals and free access websites shall include the following information:
    (a) the recommended setting of temperatures for optimum food preservation;
    (b) an estimation of the impact of temperature settings on food waste;
    (…)
    (e) instructions for the correct installation and end-user maintenance, including cleaning
    (f) for integral cabinets: 'If the condenser coil is not cleaned [the recommended frequency for cleaning the condenser coil, expressed in times per year], the efficiency of the appliance will decrease significantly.';
    (g) access to professional repair such as internet webpages, addresses, contact details;
    (h) relevant information for ordering spare parts, such as internet webpages, addresses, contact details;
    (i) the minimum period during which spare parts necessary for the repair are available;
    (j) the minimum duration of the guarantee offered by the manufacturer;
    (k) instructions on how to find the model information in the product database, as set out in Regulation (EU) 2019/XXX by means of a weblink that links the model information as stored in the product database or a link to the product database and information on how to find the model identifier on the product